Expanding Casualty Pro with Autodesk
Justin Levine
Co-Founder & CEO
Welcoming Autodesk Build users to Casualty Pro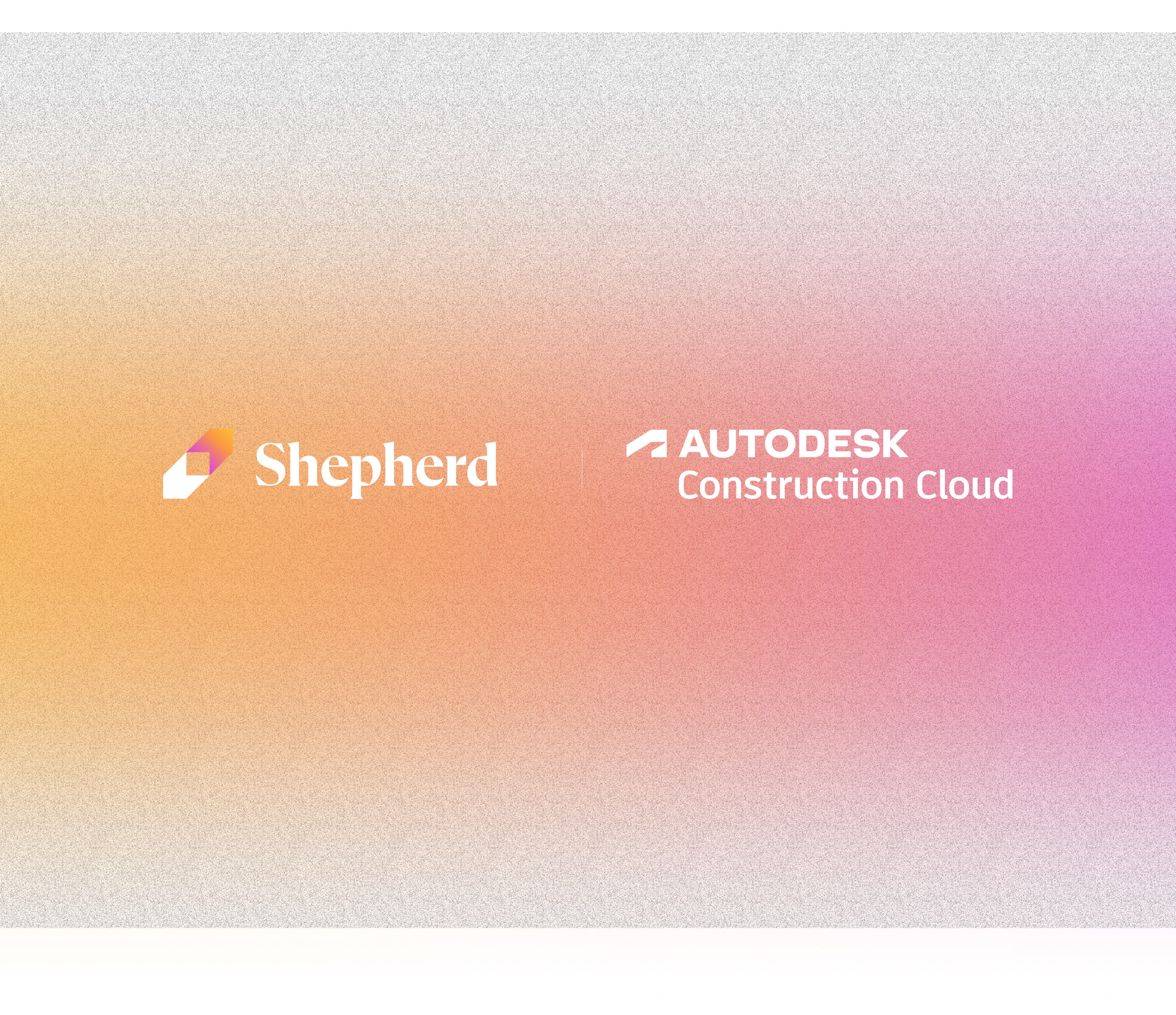 Today we're announcing the expansion of our Autodesk collaboration with the inclusion of Autodesk Build into Shepherd's Casualty Pro offering. We are proud to be aligning with one of the top technology providers in the construction industry and even more thrilled to help their customers save on insurance costs. On a personal level, it's exciting to be working again with old friends.
The next generation of construction technology from design to operations
Before founding Shepherd, I spent nearly five years building my first construction tech startup, TradeTapp, which we sold to BuildingConnected in 2018. When I joined Autodesk via the acquisition of BuildingConnected in 2019, I took on the challenge of leading risk strategy for the newly formed team behind Autodesk Construction Cloud (which also included recent acquisitions PlanGrid and Assemble). The vision for Autodesk construction has always been clear – a single enterprise solution for the entire construction lifecycle, from design through to operations. We believed that the realization of this vision would not only impact construction efficiency, but also, importantly, the risk profile of project delivery. The initial iteration of Autodesk Construction Cloud created critical connections between the independent tools Autodesk developed both organically, such as BIM 360, and through the acquisitions of BuildingConnected, PlanGrid and Assemble. The next iteration built connectivity and flexibility directly into the platform, and included three new unified products – the cornerstone of which is called Autodesk Build.
Released in November, 2020 Autodesk Build is a comprehensive field and project management solution for construction teams. With Autodesk Build, general contractors and specialty trade partners are able to streamline workflows across project management, including QA/QC tracking, safety incident management, and project cost. In the last 2 years, Autodesk has continued to expand upon their suite of construction products, adding acquisitions of Pype (2020) and ProEst (2022).
Autodesk Build Product Overview - autodesk construction
Underwriting with Autodesk Build data
With this new Shepherd collaboration, we're able to build upon the learnings of our existing Casualty Pro relationships, and further double down on our thesis that project management platforms are the foundation of a strong risk management approach. Our early data studies have revealed positive correlations between contractors who adopt these tools, and improved outcomes on their insurance programs.
In addition we're also able to support a fast growing sector of contractors who are either already using Autodesk Build or are migrating from legacy PlanGrid accounts. More than 2.5 million construction projects have used Autodesk Construction Cloud products, including Autodesk Build and PlanGrid. Given the immense scale and investment of Autodesk Construction Cloud, Autodesk Build more than meets the key requirements of the framework for Casualty Pro:
Broad industry adoption: since launching a year and a half ago, Autodesk Build alone has been used on more than 100,000 projects,

a 1,200% year over year increase

Readily available APIs

Long-term alignment with the Autodesk Construction Cloud vision
Looking ahead, we plan to explore even broader support of Autodesk's construction solutions, with particular interest in preconstruction. The genesis of so many project risks originates during the critical planning phase of a building, and Autodesk brings a unique value proposition to construction firms through industry-leading solutions that connect design with preconstruction through to site construction and operations.
Impact on Autodesk Build customers
At Shepherd, we believe in creating a new type of alignment between insurer and client. It's only been a few months, but customers are already leveraging Casualty Pro for underwriting credits and improved terms on their policies. The data included as part of the submission process allows contractors to tell a richer story about their operational controls, and gives the quantifiable rationale to lean in on the best performers.
Autodesk Build customers deserve to be rewarded for their investment in technology and their efforts to digitize many critical workflows that impact loss results. Contractors who are actively using Autodesk Build will be able to qualify for underwriting credits and improved coverage from Casualty Pro during their next renewal cycle.
Find out if you qualify for Casualty Pro with Autodesk Build
For the initial phase of our collaboration with Autodesk, we're targeting clients that actively use the Autodesk Build platform. The first step is to find out if you qualify by completing the short form here.
When contractors purchase insurance from Shepherd (via their broker), we'll provide the authorization to include Autodesk Build data as part of the submission package. Once the client has approved, we'll receive the data directly from Autodesk and determine if the contractor is qualified for the Casualty Pro program.
Our mission is to make construction safe and sustainable through innovative insurance products. Our relationship with Autodesk's construction business is a critical step in pursuit of that goal, and we're so excited to be working with their team!
Enjoyed this post? Stay in touch with us: