Product & Engineering
Sep 1, 2022
Hello, bonjour
Maureen MacIsaac
Product Lead
3 lessons I learned building a commercial insurance product from zero to one
This past January, I joined Shepherd as the company's first product manager. Since then we've launched in the excess casualty market and expanded our product offering with Casualty Pro: a program that helps contractors improve their policy terms through leveraging construction data sources.
Insurance - especially commercial insurance - has been around for hundreds of years. There is a huge array of insurance carriers for contractors to choose from. Yet in the six months since launching we've received hundreds of new insurance submissions - putting us in the deal flow range usually reserved for major carriers.
What lessons did we learn during this famously challenging "0 to 1" phase that helped lead us to early success? Here are three of the biggest (and occasionally counterintuitive) takeaways from our first months...
1. Test your key hypotheses as early as possible. The results may surprise you.
Shepherd has two key value propositions: industry-best response time and using new data sources to improve underwriting outcomes (which is a new innovation for our target market). From my earliest conversations with Justin, Steve and Mo, it was clear that they wanted to build an insurance company that would operate differently to traditional insurers. I was on board as I had seen how consumer underwriting had been transformed using new data sources like bank transactions and payrolls. Why shouldn't commercial insurance be the same?
Figuring out how to include new data sources in underwriting is a herculean (and, dare I say it, fun?) task. Similarly, turning around responses on whether a deal is within our risk appetite (also known as "indications") on submissions within a 24 hour window would be best-in-class. Promising both features seemed… near impossible?
In the end we bit the bullet and delivered both solutions: 24 hour indications and using new data sources in underwriting. How we did that is a story for another blog post but involved a lot of heavy lifting and teamwork.
We're glad we pushed through. The information we've received early has led us to adjust our strategy quickly and validate market signals early in our journey. Taking time to figure out market positioning would have put us behind an ambitious schedule and reduced crucial feedback time.
Before launching Casualty Pro, we estimated the share of contractors using construction technology was potentially in the single digit percentages nationwide. After launching Casualty Pro with three data providers, we have been blown away by the number of submissions coming from contractors who already use construction tools like Procore, Autodesk Build, or Openspace to better their job site safety and efficiency. We were lucky to leverage decades of underwriting experience and construction tech experience to translate the data into underwriting guidelines.
Our guess - that this offering would be applicable to only a small but growing segment of the market - was totally underestimating true market demand. Launching early was hard, don't get me wrong. But testing our market early meant we could quickly adjust and switch strategies to converting construciton technology users to Shepherd insurance products.
Before launching it was unclear whether speed would move the needle to unseat incumbents on insurance programs. It was also unclear whether we would be able to even meet our promised SLA. In order to keep indications under 24 hours we've automated as many steps of the underwriting process as possible (more on that below).
Since launching, Shepherd's quick response time has made life much smoother for our broker partners who often approach dozens of carriers to get quotes for each contractor. Speed is a top theme in our customer case studies and quality of service is paramount in this business. Validation of this hypothesis means we have doubled down on this value prop. We continue to find new ways to help our underwriters make decisions faster without sacrificing quality of judgment. The results are easy to see - here's a shot from our internal underwriting platform displaying just how fast our underwriters are able to indicate whether a deal meets our risk appetite:

2. Cross the aisle - and expect that others will cross over to you in turn
Shepherd is split roughly 50/50 between folks with extensive careers in the commercial insurance space (on the underwriting and actuarial teams) and those who thought "General Liability" was an insult, not a product line, before working at Shepherd (the engineering and product teams).
This means our engineers know actuarial models inside and out, and that our underwriters regularly test features in our platform staging environment and provide feedback using phrases like "This is gonna have to be a P1". On my first day, our Head of Underwriting confided, "I'm pretty sure Avi could price this deal", referring to one of the founding engineers and his knowledge of what it takes to quote a commercial auto policy.
An example of this is our company-wide design sprint I led in April where Shepherd's collaborative and empathetic culture really shone through.
For any submission we receive, the biggest time sink is manually inputting motor vehicle data into our internal underwriting platform which then generates a quote based on the specifics of the vehicle fleet. Submission data is highly detailed but is often incomplete - lacking details such as vehicle weight, year, and the type of vehicle (passenger or commercial). Since we pride ourselves on fast quote turnaround our underwriters don't have the time to spend hours following up and inputting auto fleet details. This meant coming up with an internal solution to save time was crucial to keeping our response time SLAs.
In order to come up with a solution, our design sprint focused on breaking down the problem into much smaller pieces and brainstorming solutions with the whole team.
*Can we store previously-inputted data on similar vehicles? Can we surface Google results (such as vehicle weight) in our platform? *
The best idea came from some intel that Lindsay, our Underwriting Lead, shared with us. Our submissions all contain unique auto vehicle identifiers. We had a hunch that we could look up a lot of vehicle data by connecting to publicly-available sources such as state motor vehicle departments. After some research, our engineering team found an API that enabled access to public DMV data. Using the vehicle identifiers from the submission, we were able to instantly pull data on an automobile fleet and pre-populate a submission so our underwriting team could save up to 2 hours on a submission.
Along with many other improvements this underwriting platform feature helped us reduce our "time to indicate" (the number of hours between receiving a submission to an initial underwriting response) by 16% between Q3 and Q2, while the amount of quoted gross written premium (GWP) increased by more than 200%: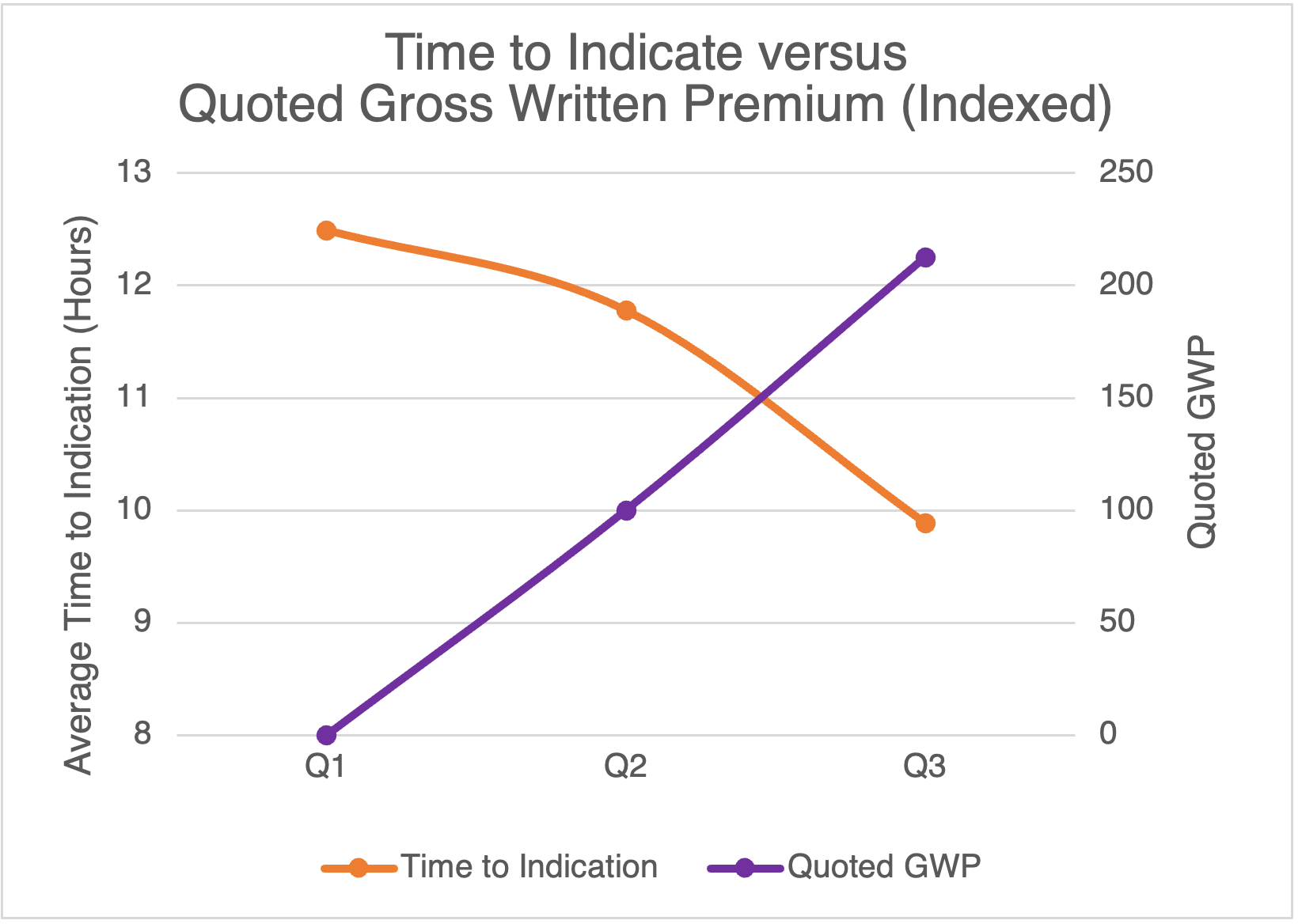 This tool went from ideation to shipping in a matter of a week and now saves underwriters hours of manual data entry for tough submissions.
3. Move fast and break (some) things - but not everything.
Like almost all fintechs, we operate in a heavily regulated industry. We adhere to strict guidelines that govern how we build pricing models. These rules ultimately protect Shepherd's bottom line as well as that of our capacity partners. This also means our decision making as a product function - what to build and how to build it - is often constrained.
A lot of classic product development case studies reflect direct to consumer propositions. In these cases, functionality and design is less constrained and a "lean" startup can ship something that may only be partially completed. A bad user journey or bug is likely forgivable in gaming or meal delivery. For fintechs, it's harder to define where to draw the line at an MVP. For instance, creating a "lean" or "scaled-down" actuarial pricing model is challenging when you need regulatory approval. This environment means product managers have to be super clear on what truly matters in each product environment, and what is of second-order importance.
As Steve and Justin have shared in other posts, we are an "underwriting first" company - and that extends to our product and engineering priorities. While other insurtechs have focused their value propositions around distribution or growing at all costs, we have forged our own pathway. This extends to the product roadmap as well. It's fine for some things to break; all companies eventually have errors no matter their size or stage. But we need to carefully review and agree as a team on what those priorities are.
For Shepherd, the accuracy of our pricing models and the specifics of our policies will always be of the highest priority. That's why we as a product and engineering team have invested in innovative testing suites to ensure our models are robust to errors. Accuracy is foundational to our pricing and policy. We have confidence that when we generate a quote, invoice or policy that every line is 100% accurate.
The road ahead
What new lessons will come out of Shepherd scaling as we expand to new product lines? Well, both Mo (our CTO) and I are Canadian and we're taking a page out of Canada's playbook. We're not setting one national language - we're not forcing employees to defer to the insurance or tech side of the house - we welcome both with open arms.
At Shepherd, we're fluent in both insurance and tech. "Hello, bonjour." Welcome to Shepherd.
Enjoyed this post? Stay in touch with us: