Shepherd Expands into Primary Casualty Lines, Unveiling New Opportunities for Contractors
Justin Levine
Co-Founder & CEO
Today marks an extraordinary milestone for Shepherd as we proudly announce our expansion into Primary Casualty lines. We have begun supporting additional placements for Primary General Liability, Workers' Compensation, and Commercial Auto with continued support for Umbrella and Excess Casualty. After a year of dedicated efforts in marketing for capacity while growing our portfolio with new policyholders, we are thrilled to broaden our casualty offerings.
Our Journey So Far
Throughout the last year, we've forged partnerships with some of the world's leading carriers and reinsurers in order to bring a top-quality program to market. Shepherd's primary offerings will be through Core Specialty subsidiary, StarStone National Insurance Company, written on admitted paper, with a rating of A- (Excellent) by A.M. Best, and financial size XII. We know how important the financial strength of an insurance program is to our clients, and we're humbled by the trust some of the world's largest insurers have bestowed upon us.
At the heart of our mission lies the belief that contractors who invest in technology to enhance safety, productivity, and efficiency are fundamentally better risks. In line with this vision, we are thrilled to extend our existing program, Casualty Pro, into primary lines where we will continue to offer underwriting credits and preferred terms to contractors who have adopted these tools in earnest. On a select basis, as we do with Umbrella programs, we will offer renewal-rate guarantees as part of our proposals.
Excess Program Growth
A few highlights since the launch of our Excess program at of end of Q1 2022:
17 retail appointments including 10/10 top brokerages by volume

More than 800 submissions and average indication time of 16 hours

Written exposure in every US state

364% YoY growth (premium)
Shepherd's Submission Growth by Quarter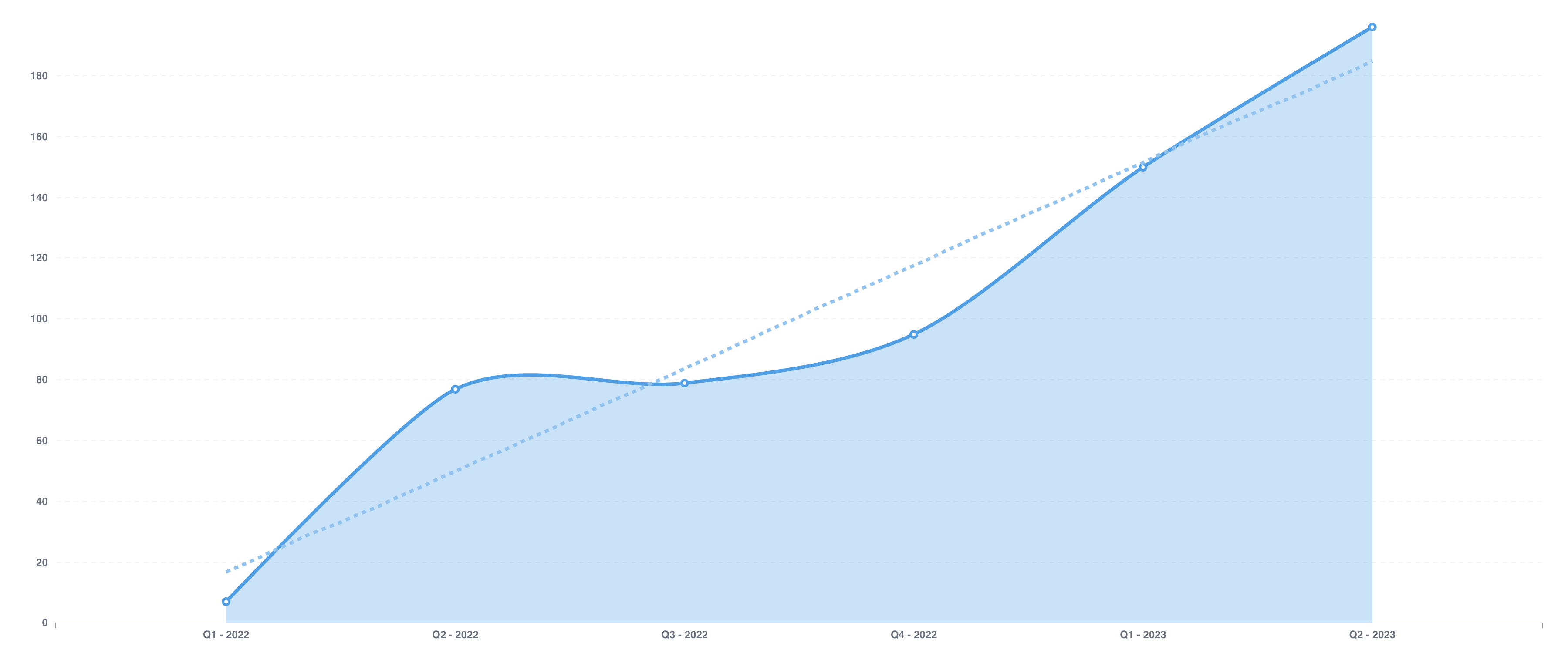 Our New Product Offerings
Today we are live with our Primary Casualty offerings in 15 states with several more soon to launch here in 2023.
Our current underwriting appetite will serve as a template for how we approach these new products. We'll continue to concentrate on serving middle-to-upper market contractors (greater than $50M in sales, on average), and providing support for both annual ("practice") programs and project-specific covers, including wrap-ups and joint-ventures. We will offer supported Umbrella or Excess placements, providing coverage above our own primary products.
Our portfolio today has exposure in every US state, and is well-diversified geographically. We intend to follow the same approach with primary lines and have built out a countrywide appetite. As we receive additional state approvals, we'll continue to announce new states live throughout the remainder of 2023 and into early 2024. We understand the value of flexibility in program structures, and our primary offerings will include both guaranteed cost and loss sensitive programs. We'll work with our clients and broker partners to determine the right structure for each program, and will avoid any one-size-fits-all approaches in our underwriting.
Primary Lines Key Highlights:
Live in 15 states

Up to $2M CGL, $2M AL & APD, and WC

Practice programs & project placements

Supported Umbrella or Excess
Shepherd Primary Launch by State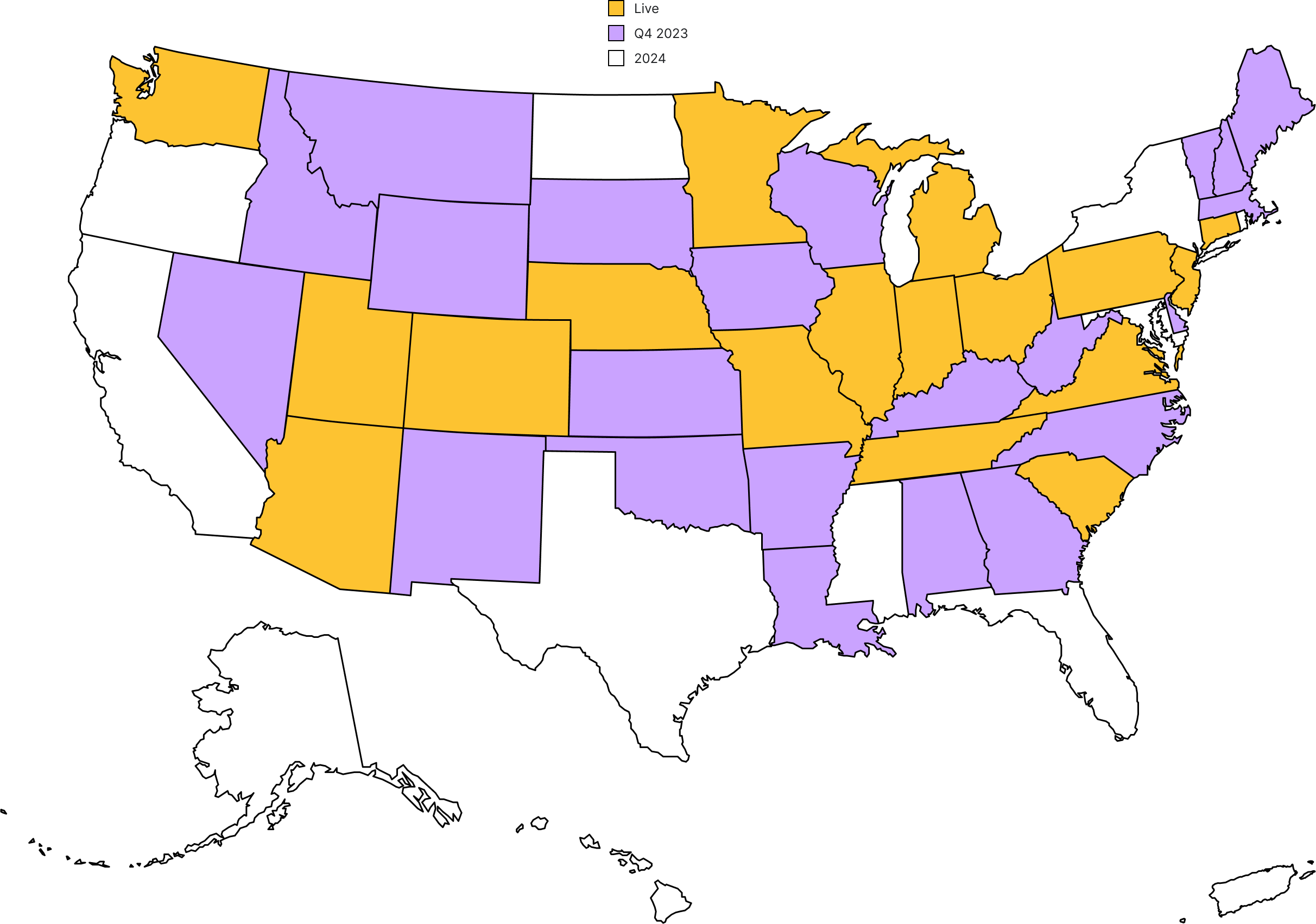 Empowering Our Distribution Partners
We recognize the indispensable role played by retail broker agents in the construction casualty space, as representatives of contractors and trusted advisors on complex coverage matters. At Shepherd, our focus is on empowering brokers with the tools they need to succeed rather than displacing them.
Shepherd's speed-to-indication has become our calling card, and we'll be doubling down on this as part of the expansion. Brokers should expect working with Shepherd to be a delight, even if we don't end up binding on a particular opportunity. It's no surprise that our submission count this year is already almost 50% above our 2022 total, and continues to grow quarter-over-quarter. Brokers repeatedly tell us they love working with Shepherd, and the feeling is mutual!
To enable industry best speed, our vision is to eliminate as many administrative underwriting tasks as possible through the use of our own technology. An extraordinary effort was put into expanding the Shepherd underwriting platform for these additional products including everything from price modeling to proposal and policy generation. Brokers will feel the true power of our engineering not only in our speed to response but with the continued support for loss and exposure benchmarking through Shepherd Insights that will be included as part of our completely digital quote and proposal experience.
Resources to Enable Our Customers
In addition to our insurance offerings, we are embarking on a number of new in-house software initiatives that will help our clients better manage risk. As a technology company, we have the unique capability to provide additional resources that support the insurance products we offer, and intend to help our clients improve loss outcomes with their use – a win-win for our clients and Shepherd.
We made our first two product releases public in support of this strategy last quarter, initially with Shepherd Insights - a loss benchmarking tool and then subsequently with Shepherd Rewards, a marketplace of technology partners available to our clients at preferred pricing. Each and every proposal from Shepherd will include information from these two offerings.
We're currently piloting a new Shepherd software product with several current policyholders, which leverages powerful new technology available in the artificial intelligence (AI) arena. The feedback has been overwhelmingly positive thus far. We're excited to reveal more in the coming weeks.
A Look Ahead
This expansion into primary casualty lines is still just the beginning of our story, but a significant milestone nonetheless. We'll continue to develop new insurance products with a goal of a holistic industry practice suite on par with the largest construction insurance incumbents.
Reflecting for just a moment, today's announcement marks a significant inflection point for our company. Underwriting primary products has been in the DNA of Shepherd since we started the company, and the opportunity to partner even more closely with our clients is extremely exciting. Rest assured, we are already hard at work on what's next. Finally, we remain incredibly thankful for all the support we have received from our friends, brokers, and investment partners who have believed in us throughout this incredible journey.
Thank you to our supporters, partners, and visionary builders shaping our world. For more detailed information, visit: www.withshepherd.com
Contact Information Website: www.withshepherd.com
Submissions and inquiries: submissions@withshepherd.com
Enjoyed this post? Stay in touch with us: